Anal Only April 2020 is Coming Soon!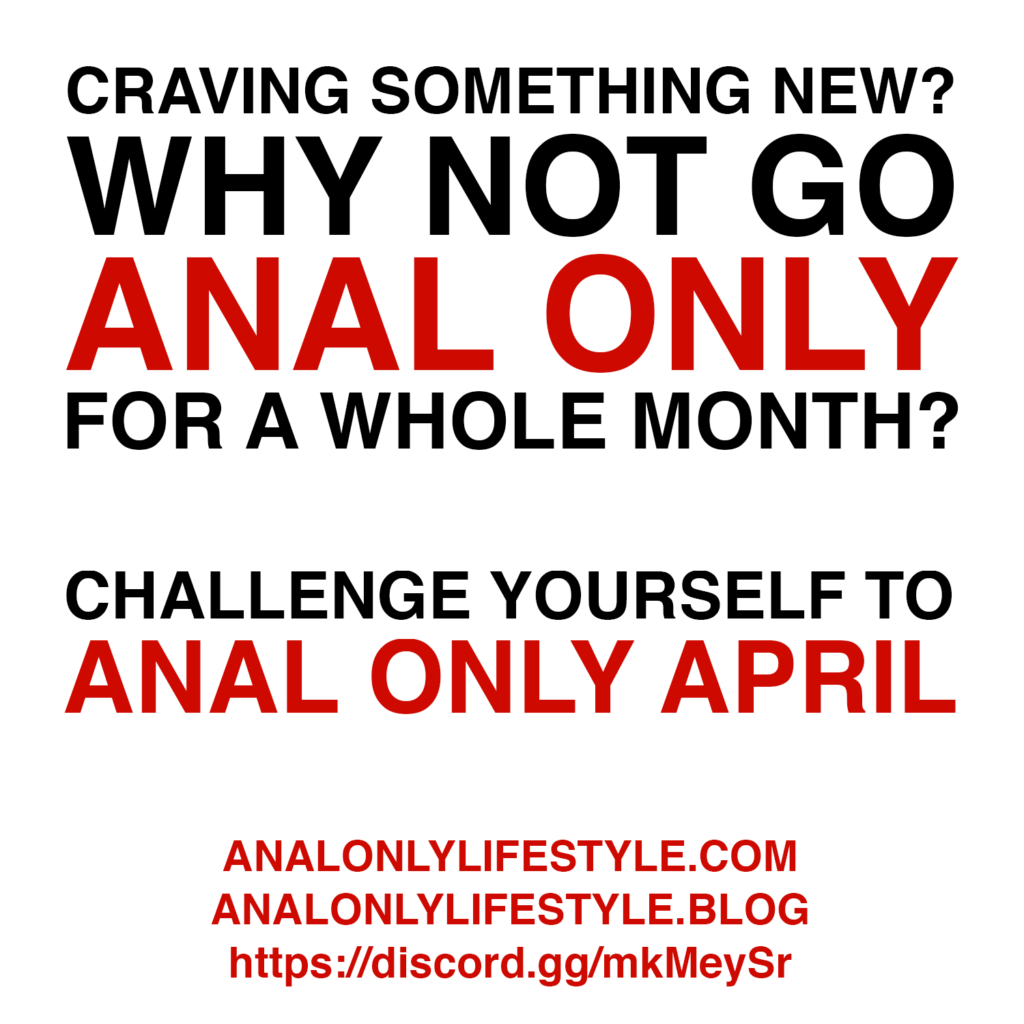 Yes, it's that time of the year again! If you've been looking for an excuse to try going anal only for yourself, or to bring up the idea with a partner, here's your chance.
The rules of Anal Only April are simple: starting April 1st, whether on your own or with your significant other, stop all vaginal penetration for sex and masturbation, and replace it with anal instead.
Clitoral stimulation is optional. If you would like to go for a more advanced form of anal only, try doing it without touching your clit and only orgasming through anal. If you need your clit in order to enjoy anal, combine it with anal, but only rub your clit while also masturbating anally.
Oral sex is still allowed and encouraged, especially blowjobs and rimming. Cunnilingus is optional—some choose to exclude it, others still include it but don't engage in any vaginal penetration as part of it.
Try your best to stick with anal only for the whole month—it's a long enough period of time that while you might struggle a little bit with it at first, whether adjusting to the frequency of anal sex, or dealing with lingering cravings for vaginal sex or clitoral stimulation, by the end of a month most people figure out what being anal only is really like, and a majority of people who enjoyed their month trial either choose to stay anal only and not go back to vaginal, or return to it again later after a break.
If you're already anal only, don't worry— you can still enjoy Anal Only April yourself. Challenge yourself to have anal sex every day of the month, or to start wearing a butt plug or masturbate anally every day, or to experiment with clitoral denial and anal only orgasms if you aren't already, or to start doing ass to mouth regularly, or to train your ass with bigger toys to be able to do anal fisting or double anal. The possibilities are endless for exploring new things as part of the anal only lifestyle. If you already enjoy double anal, consider trying making April a double anal only month—whether with two partners every time, or with a partner and a dildo, or two dildos.
Over the next month, get your plans in order, get your partner (if any) on board, and if you haven't had anal sex yet or for a while, start working on training so that by the time Anal Only April begins, you're ready to dive in!
If you decide to take part, let us know! Share your plans, ask any questions, and keep us updated as you start exploring the anal only lifestyle!
Related Posts