Anal Only Porn Stars
Though anal porn is one of the most popular genres of pornography, and just keeps getting more popular with time as anal itself becomes more frequently practiced, adopted and enjoyed by people, the number of porn stars who are actively anal only themselves, whether on film or in their personal life, remains disappointingly small. There are a few, however!
---
Porn Stars Who Are 100% Anal Only
These actors are those few who have never done a single vaginal scene on camera and who in many cases are anal only in their own personal life as well.
Aurora Jolie
The classic and most well-known anal only porn star, Aurora Jolie (also known as Nikara) was not only strictly anal only during her porn career, she was also a complete vaginal virgin.
Initially motivated by a desire to save her virginity for a future partner, Aurora Jolie has over 100 adult film credits to her name, all of which were anal only.
In time, she did lose her vaginal virginity to a partner and went on a hiatus porn after getting pregnant. She found that she didn't enjoy vaginal sex, however, and went back to being anal only both in her personal life and in porn. These days she can be found doing anal only cam shows, or on ManyVids. In a 2017 interview, she was asked whether she would ever do a vaginal scene and she said no:
I would rather not. It just doesn't interest me. I prefer the anal niche.

An SOTB Interview with Aurora Jolie

Follow Aurora Jolie on ManyVids
Jill (aka Virginia, Toma, etc.)
Most well known through the Ass Teen Mouth, Try Teens, Young Throats and White Teens Black Cocks series, Jill (who goes by a variety of names) combined her youthful appearance with an obvious love for anal sex.
In her dozens of scenes throughout the years, starting at age 19, she never once had vaginal sex. Curious about this, some of her fans managed to get in contact with her and ask about it, and she confirmed that she is a real-life vaginal virgin—not for any religious reasons or because she wants to save herself for marriage, but because she loves anal sex and it turns her on and makes her happy to keep her pussy virgin and only be an anal slut. She intends to never have vaginal sex at any point in her life and always be anal only.
I was fascinated to meet the oxymoron virgin porn star. And, of course, I wanted to ask Jill the million dollar question.

I figured Jill was saving her virginity for her wedding night. Nope!
Jill simply likes to be a virgin, and fully intends to remain a virgin!

User lobo on EuroBabeForum
There are several references to her having a double penetration scene, but this appears to actually be incorrect and it was double anal instead (though only captured in photographs, not video).
See a partial filmography for Jill at EuroBabeIndex
Kylie Sinner
Though now retired, Kylie Sinner's short lived porn career spanned about a dozen films, all of which were anal only. Kylie was another vaginal virgin, this time because she had vaginismus, a condition that made her vagina too tight to penetrate without pain, so she gave up on it and did anal instead, discovering just how much she loved it. She received a lot of popular attention as an anal only vaginal virgin while she was active, but unfortunately disappeared quickly.
---
Porn Stars Who Prefer Anal
These are actors who either live anal only or primarily anal only in their personal life or who have said that they'd like to go anal only in porn. The unfortunate reality is that porn actors are expected to do everything, in order to be marketable to the widest audience, so limiting yourself to just anal can be seen by porn producers as an undesirable characteristic. As anal porn continues to dominate, however, and the market for pure anal only porn becomes more apparent, there should be a growing space for anal only porn stars as well.
Lexi Grey
This actress has been tweeting regularly about preferring anal and wanting to go anal only since 2019, and as of early 2020 appears to have done so, as well as claiming that she's going to stick with it for at least the rest of the year. If she ends up doing so and doesn't return to vaginal in porn or in real life, she'll get bumped up to the 100% anal only category above.
fantasizing about getting my cunt sewn up and being an anal only whore

Lexi Grey, Twitter, July 8, 2019
it's been a month since a dick has been in my pussy. i'm officially anal only

Lexi Grey, Twitter, March 5, 2020
day 45 without sex and i think my pussy might have actually closed up and collected cobwebs. time 2 sew it up n be anal only 4 good

Lexi Grey, Twitter, March 8, 2020
anal only all 2020

Lexi Grey, Twitter, March 11, 2020
Be sure to reach out to Lexi on Twitter and let her know your support for her adoption of the anal only lifestyle and that
Charlotte Sartre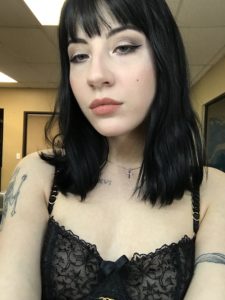 Charlotte has a lot going for her, and excels in the hardcore anal and double anal genres. She's filmed over 40 scenes for LegalPorno, and only four of them contained any vaginal penetration, while 80% of her scenes are double anal. Her enthusiasm for anal shows both in porn, and in real life.
She's talked about her preference for anal in a number of venues, but recently admitted on Twitter:
I wish I had only clit and butthole no vagina

GothCharlotte, Twitter
As well as:
Why fuck the pussy when there is a perfectly good asshole right there

GothCharlotte, Twitter
Sara Bell
This Italian porn actress greatly prefers anal sex, especially on the more extreme end of the spectrum, and focuses primarily on double anal. She has repeatedly said that she does not like vaginal sex and prefers anal always. Her career so far has been almost exclusively anal, with only one or two scenes total containing any vaginal penetration at all.
When asked on Twitter what she preferred, she said:
No 1: Double anal
No 2: Anal
And followed with: "Real sluts don't like to be fucked in the pussy"
Reach out to Sara on Twitter and encourage her to become a 100% anal only porn star going forward!
Update: Unfortunately, since the publication of this post, Sara has shifting to mostly doing vaginal/anal double penetration scenes.
Adriana Chechik
Adriana Chechik is well known for her anal prowess, having done countless anal scenes, including several double and triple anal scenes. While not remotely anal only in porn, she does have a strong love for anal both in porn and in her personal life. Adriana has created several bikini sets with "ANAL ONLY" embroidered into them, which have featured in several of her anal scenes, and which she's been rumored to be developing into a product for sale.
In an interview on Asa Akira's Pornhub Podcast, Adriana revealed that she largely has anal sex at home with her boyfriend, who was notorious for only doing anal sex with women before hooking up with Adriana, and they were strictly anal only together for the first six months of their relationship.
Listen to Adriana's interview on The Pornhub Podcast with Asa Akira
Jessie Rogers
Now sadly retired for some time, Jessie Rogers was instantly popular when she started her porn career and quickly made herself known as an enthusiastic anal performer, taking it up the ass in most scenes as well as doing a number of anal only scenes. It wasn't just an act, however, Jessie preferred anal in her personal life and over time came to not enjoy doing vaginal scenes anymore because her enjoyment of those was an act. In the months before she retired, she was publicly discussing going anal only and refusing to do any more vaginal scenes since she simply didn't enjoy them.
Remember when i said i only want to do on camera what i truly enjoy..well…What are your guys' thoughts on if I ONLY did anal? I'm reallyyyy liking getting butt fucked…
No more bg vaginal scenes… Or is that too weird? Lol i want some opinions hehe I feel like a weirdo this is becoming a problem when I have to do normal scenes . Well it's not a problem, i just feel like its not feeling good anymore. Be honest cause I really feel like a weirdo I've never heard of a girl only enjoying anal sex… Besides me I guess lol

Jessie Rogers on AdultDVDTalk, May 5, 2012
She received a lot of support and encouragement for this, and had she remained in the porn industry she would have become a powerful force for anal only porn and the anal only lifestyle. Alas, she retired before the end of the year.
Trinity St Clair
She isn't strictly anal only on camera, but Trinity St Clair got to the point where she primarily did anal scenes in time, and has been anal only in her personal life. Trinity's vagina is particularly tight (perhaps the result of vaginismus or a similar condition?) and vaginal sex is uncomfortable or even painful for her, but anal sex comes easily and she gets off on it easily, so she greatly prefers anal.
So, I am an anal girl. I prefer anal. […] I had a sex partner that was way to big and for the life of us he couldn't get it in my vagina. And so you're having sex and he couldn't get it in one hole, so he kind of just slid his dick and it just kind of slid right in my ass and we just continued on. And he didn't even realize it until we finished and he was like "Oh my god, was my dick in your ass?" and I'm like "Yeah!" and he was like "Are you okay with that?" I'm like, "Sure! It felt good." And from then on, that's just what happened. That's how I continued to have sex.

Trinity St Clair Interview, Night Moves Studio, June 2, 2011
Everytime a dick enters the pussy she just doesnt expand and is tighter than anything…sex with a virgin is what it is like. But hit the ass and she opens up for anyone size doesn't matter to much. hey it doesn't bother me I love it. I just am almost to a point of doing strictly anal scenes.

Trinity St Clair, March 15, 2011
She also expressed frustration with guys both in her personal life and in porn telling her she should stop doing or wanting anal so much and should do more vaginal, saying that she preferred anal, was an anal girl, and that was that.
as everyone knows I am an ANAL lover, why because it works for me. So its getting old when people tell me stop doing anal, or why did you start with anal? Its because I love it for one and two it works better for me! I am not going to stop doing something I love especially taking it up the ass to make others happy. If you don't like it oh well this is the one thing thats my nic! and I love! So Im not going to stop taking it up the ass and thats final my choice is made up.

Trinity St Clair, February 16, 2011
Kelly Wells
She never was exclusively anal only on camera, but with her anal focus and love for double anal and other more extreme acts, she had an obvious enjoyment for taking it up the ass, and more than once expressed on camera that assholes and anal were better suited for sex than vaginas.
"God made pussies for making babies… but the ass… that's for fucking."

Kelly Wells
Sheena Shaw
Though her porn career is filled with vaginal sex and double penetration, Sheena has repeatedly said that she prefers anal, and said that in her personal life she's nearly anal only and does vaginal only once a month, at most.
Kelly Divine
With her big ass, Kelly Divine has attracted many anal lovers over the years, and though she has done a fair bit of vaginal scenes, she's expressed her strong personal preference for anal sex.
I actually try to totally avoid vag…. anal is the shit, pun totally intended lmao

Kelly Divine on the AdultDVDTalk forums
Melanie Moore
Prior to getting into porn, Melanie was a vaginal virgin and did anal only for the first three years of her life as a form of birth control, and very much enjoyed it. Eventually, however, she did try vaginal sex, but found it to be boring compared to the intensity of anal pleasure, and still prefers anal.
London Keyes
London has expressed a strong preference for anal sex because she is unable to orgasm from vaginal and requires anal in order to cum. This is no doubt a major reason why she shot a number of 100% anal scenes.
Emily Willis
When interviewed by PervCity prior to an anal scene, she is asked, "So, you really like butt sex, then?" and she responds, "I do. I'm a really big fan."
"If you could have just one, butt sex or vaginal sex, for the rest of your life…"
"Definitely butt. 100 percent."
"Do you have better orgasms? What is it that you like better about the butt?"
"My orgasms are just so much harder."
Anya Olsen
In a similar pre-scene interview, Anya Olsen talks about her early sexual experiences and preferences.
"I love anal. Let me tell you about anal, guys: it's amazing. Just like life is amazing, anal is amazing. […] Girls, if you're watching, try anal! Please! It is great, it's amazing. Like no other orgasm. I cum so easily from anal, and it's like the most intense orgasm ever. Like no other orgasm. I can't get it from vaginal sex, it has to be from anal."
Nataly Gold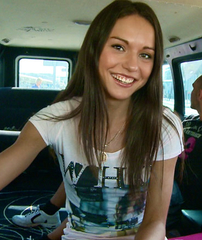 When asked on Twitter about her history with anal and vaginal sex and which she preferred, she said that she had started with vaginal, but tried anal before getting into porn and always enjoyed it, and now she prefers anal in her personal life:
"Now I prefer more anal than vaginal :):):)"
---
A Need for More Anal Only Porn Stars
As is made evident by the above, there have really been very few anal only porn stars in history, and none of them are currently active. Many porn stars prefer anal sex, but don't go the extra step of being exclusively anal only in porn.
There is a great demand among anal only men and women for adult content that is strictly anal only, and in some ways porn stars can act as role models for the aspiring anal only person, so there is a need for a new set of anal only porn stars to step up and start producing anal porn that never has any vaginal sex or double penetration involving the vagina.
There's also a niche for porn that completely excludes vaginal and clitoral contact and is 100% anal only, as there are so many women in the process of going anal only who are also exploring clitoral denial and want to be inspired by the porn they watch to stick to their goals.
Related Posts